Stan Lee was the famous editor in chief/writer for Marvel comics for decades. He and his partners created characters such as the Fantastic Four, Hulk, Iron Man, and Spider-Man. He also famously made cameos in many Marvel movies (as Uatu the Watcher). It's pretty easy to put together a Stan Lee costume, which you can use a the next comic-con/Marvel movie release/etc.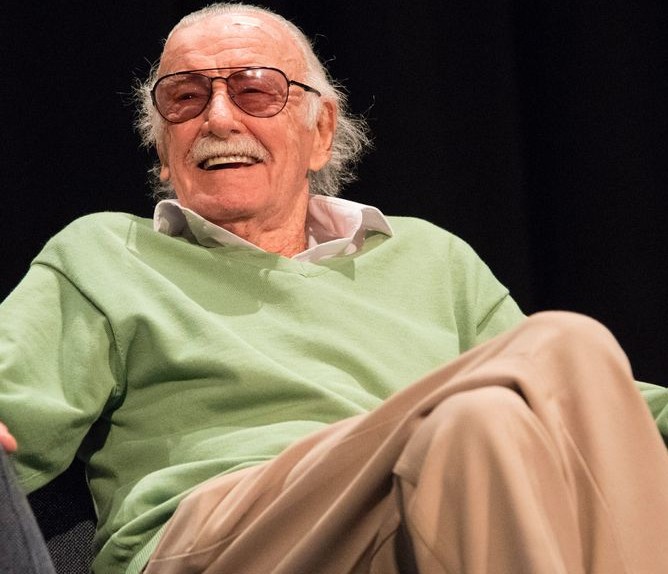 The first step would be to grab a grandpa style wig and moustache to replicate his hairstyle.
Next put on a fake moustache (or grow one). You might need some spirt gum to keep it attached.
No Stan Lee costume would be complete without his iconic sunglasses. Most likely he wore Cartier Vendome sunglasses but I think you could get most sunglasses. We're just trying to mimic the look. Not to mention vintage Vendomes can be very hard to find. You might have something that works already or check your local thrift store/dollar store.
Clothes probably don't matter too much but Stan seemed to prefer a v-neck sweater layered over a button up/dress shirt. So first grab a button up/dress shirt.
Top it with a v-neck sweater. I don't think color matters too much.
Slip on a pair of tan colored khakis/chinos. Stan didn't seem to be a slim fit kind of guy but it's just a Stan Lee costume so work with what you got.
If you decide to omit the v-neck sweater I would just tuck the shirt into the pants and throw on a black belt.
Just toss on some comfortable shoes to finish off the look.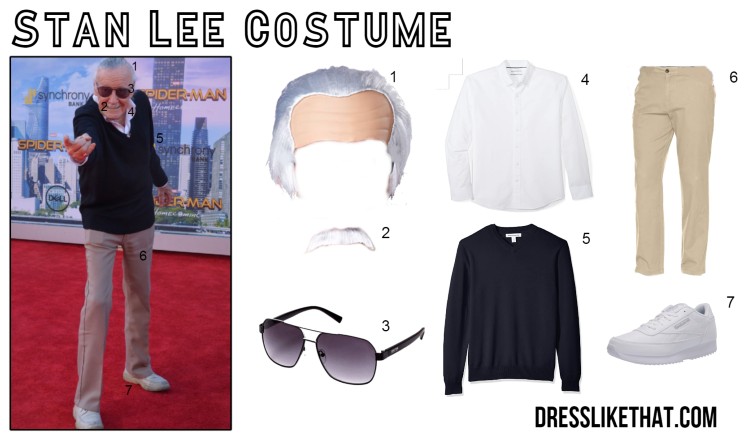 Now you're rocking the Stan Lee costume. Nuff said!