The Kpop group Bangtan Boys (BTS) are one of the biggest bands on the planet at the moment. Their latest music video Dynamite is full of great outfits that you can replicate for the next con/party/etc.
The look we'll try to duplicate for a BTS Dynamite cosplay are the pastel outfits from the start of their Dynamite video.
Jungkook – Toss on an oversized pastel blue oxford, light gray t-shirt, light blue sweatpants/lounge pants and blue sneakers.
Suga – Throw on an oversized pastel yellow short sleeve button up, yellow tee, yellow pants, and sneaker with yellow accents. You can accessorize with pink headphones.
J-Hope – slip on a pink polo, white polo (layered on top), pink shorts, bucket hat, a pastel blue sneaker and a pastel pink sneaker. You could probably get away with just a white polo and one sneaker color. You can accessorize with a beaded necklace.
V – Grab yourself an oversized light blue crew neck sweatshirt/long sleeve shirt, light blue pants, a blue kangol/beret and blue chucks. You can accessorize with a beaded necklace.
Jin – Grab an oversized pink button up shirt, a white t-shirt, and pink pants. He wears patchwork high tops in the video but you can probably just toss on anything and it would still work.
J-Min – An oversized lavender dress shirt, lavender t-shirt, and lavender shorts. Unless you're a sneakerhead you probably won't have his Air Jordon's so I would toss on any comfortable sneakers you got.
RM – An oversized yellow button up shirt, a yellow t-shirt, yellow shorts, a yellow beret, crew socks, and white sunglasses should get you the look you need. I would toss on some casual sneakers and maybe accessorize with a chain necklace.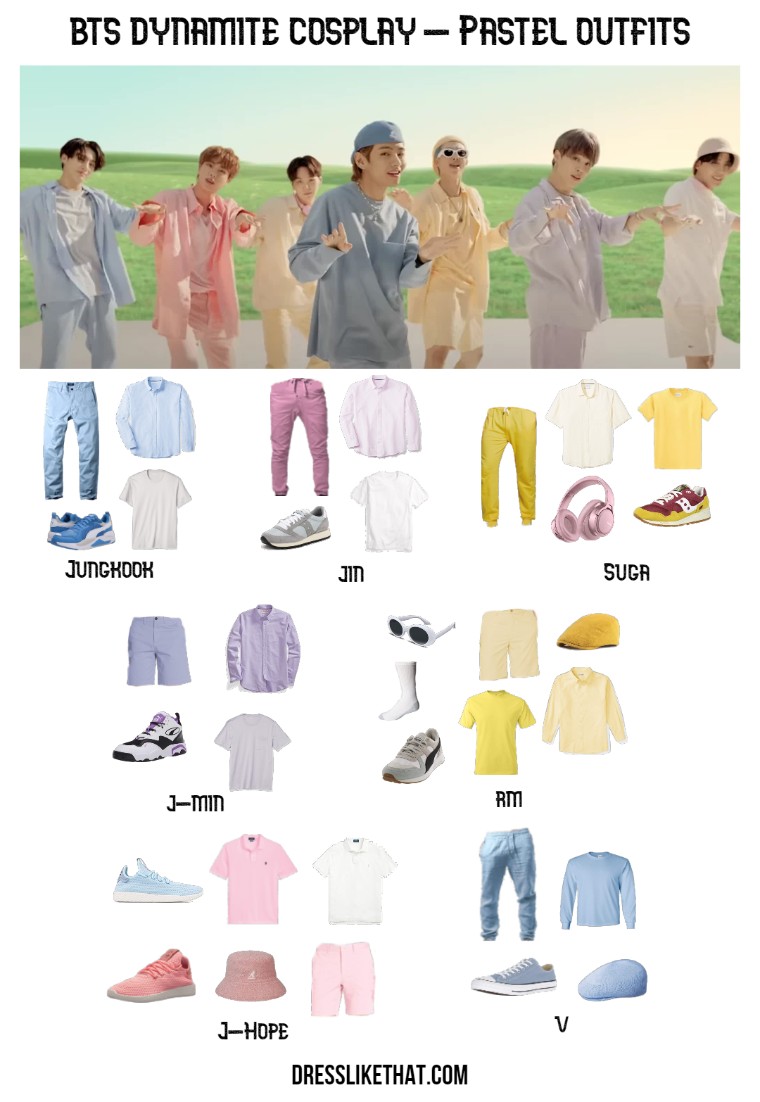 So hopefully this post will help you put together your own BTS Dynamite cosplay. If you can get together with some friends you can do a 7 person group cosplay!