Marvel's Luke Cage is a great show on Netflix with awesome music. Overall the Luke Cage costume is pretty simple and you might already have the items you need.
First you need to grab yourself a dark gray/charcoal colored zip up hoodie. I believe Luke Cage actually wears a Carhartt hoodie on the show but I think any hoodie would work as long as it isn't too form fitting. You can pull out the hoodie string and add in some "bullet holes" to enhance the look.
Toss on a pair dark wash jeans.
Slip on a dark pair of boots/shoes and you got yourself a completed outfit.
If at some point you'll be taking the hoodie off you could include a fitted t-shirt to your outfit. Bullet holes might be good too. Don't think color matters too much but personally I'd probably go with something like a dark gray, dark black or maroon.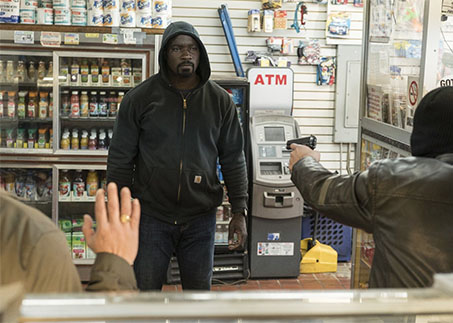 Finish off the look by shaving your head. Or you can make sure to keep the hood on as an alternative. Grow yourself a goatee to finish off the look. Now get out there and take some shots (of liquor :P).