The Vice Presidential debate just happened last night and one of the most memorable parts of the debate is when a fly landed on Mike Pence's head and hung around for a couple of minutes. This is your chance to get in on the meme and dress up in your own Mike Pence fly costume for the next debate/Halloween/etc. If you can get a buddy to dress up like Mike Pence it would be the perfect combo.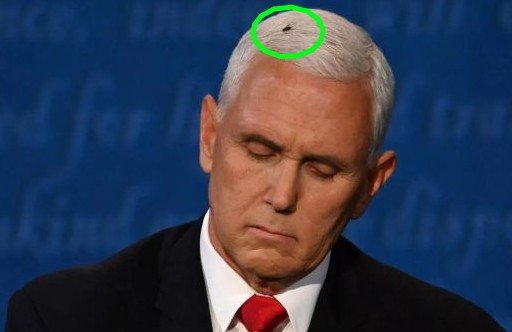 This is a pretty easy to costume to do, you just need to grab yourself a fly costume. Boom! Now you've got yourself a Mike Pence fly costume.
Alternatively you can just grab a fly mask/headband and wear some dark clothes. Something like black compression tights/top, black sweatshirt/sweatpants, etc.
Another option is to grab some bug eye glasses and an antenna headband to get that fly look. I think flies usually have pointed antenna but most people wouldn't really notice if yours aren't.
This could work as a couples costume. One person would dress up like the fly and the other as Mike Pence. For the Mike Pence  costume just throw on a white wig and maybe a blazer/suit (black suit, white shirt, and red tie). I wouldn't worry too much about getting the exact hairstyle or suit style.
If you have a kid/baby you could dress up like Mike Pence and have your kid dressed up like the fly or vice versa. There's some fly costumes for kids available although I think I think having your kid in a wig would be hilarious.
A Mike Pence fly costume could be a quick and easy thing to throw together and would make for some great photos!