Kung Fury is the toughest martial artist cop in Miami. Dress up like this and you'll be ready to go back in time to kick Hitler's ass. Get a buddy to dress up like one of  his partners and you'll be the perfect duo.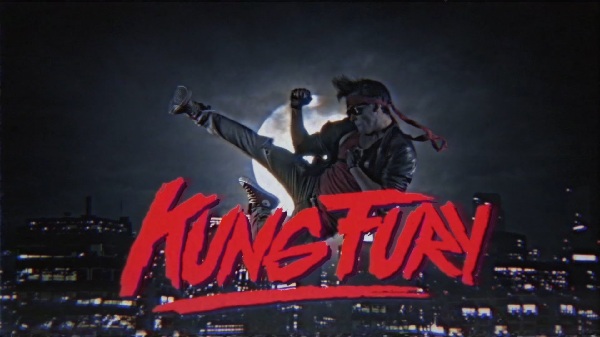 First, you'll need a red head band. Technically in the movie Kung Fury uses a red rag, so that would be even better if you can come up with one.
Next you'll need a red tank top.
Layer it with a black leather jacket. Faux leather is going to be a more affordable option. Make sure to push the sleeves up.
Grab a pair of ripped blue jeans or use a pair you already own.
Red high top Converse All-Stars for shoes. Or grab a similar pair of canvas shoes. Leave the shoelaces untied. (Might need a shorter pair of laces).
Don't forget the fingerless gloves. Workout/cycling gloves could be used later for actual working out if you want to get the best value.
Accessorize with a gun holster. I'd leave the fake gun at home though.
Get yourself a police badge to finish off the look.