Carmen Sandiego is the  villian and leader of V.I.L.E from the long running video game series Where in the World is Carmen Sandiego? Dress up like the iconic character and you could team up with a Waldo for a cute couple costume.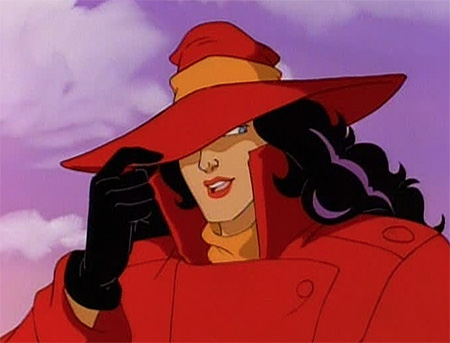 First grab yourself a large brimmed red hat. Ideally a fedora/sombrero cordobés if you can find one.
Next toss on a red trench coat.
Grab yourself some  gloves. Preferably black or dark grey in leather.
Optionally you can throw on a black catsuit/jumpsuit.
Instead of a jumpsuit you could go with a dress also.
If you want you can go with either some red high heels or maybe some black boots.
A yellow or black scarf might be another good optional accessory.
The hat and the trench coat are probably the only two items you really need for people to know who you are. The other items would be nice but aren't necessary. Carmen Sandiego has looked slightly different throughout her lifetime so one secondary accessory isn't going to make or break the outfit.