Sean Connery is the reigning Jeopardy champion and he loves to give Alex Trebek a hard time. He's also loves to make fun of his mother. sucK it Trebek!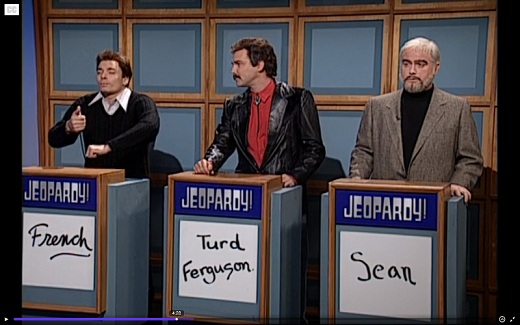 The first thing you'll need is a brownish patterned sports coat/blazer/suit jacket. It doesn't have to be exact. It doesn't even have to be brown. Pick one up from the thrift store!
Next, you'll need a black long sleeve half turtleneck/mock turtleneck shirt or sweater.
Pair that with a pair of black pants.
Dye your hair gray or pick up a gray wig.
Next thing you'll need is a beard and mustache. Either grow one yourself or pick one up. Dark gray should work. You will probably need to grab some spirit gum also. If you could find a chin beard and then a separate mustache that's slightly dark you will look even more authentic.
You can buy the wig and beard as a kit also.
Next make yourself a contestants podium. First grab yourself an old cardboard box and cut out a rectangular shape. Grab a free one if you can but you can always buy them locally at Walmart or Home Depot.
After that download the official Jeopardy font – Gyparody. Print off the Jeopardy logo on blue paper or on a blue background. Paste that at the top of your cardboard. Below that paste some white poster board and sign the name "Sean". Tie some string or twine at the top two corners and now you can wear it as a sign.