Turd Ferguson is a SNL Jeopardy regular. Pair up with Sean Connery and Alex Trebek for a great group costume.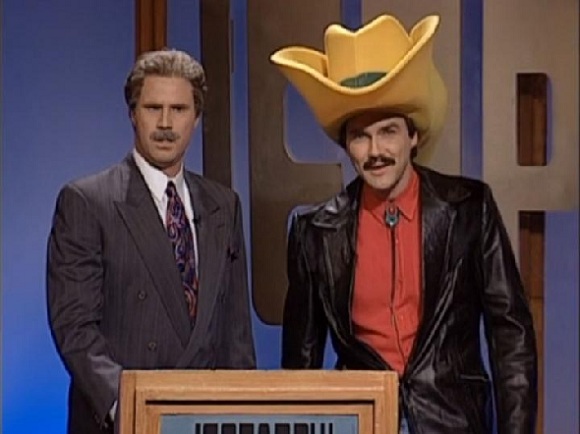 First you'll need a red button down shirt.
Next you'll need a bolo tie.
Layer that with a black leather jacket. Go with faux leather if you want to save some money.
Grab yourself a giant foam cowboy hat.
Grow a mustache or put on a fake one. You might need to pick up some spirit gum also.
Finally finish it off by making yourself a contestants podium. First grab yourself an old cardboard box and cut out a rectangular shape. Grab a free one if you can but you can always buy them locally at Walmart or Home Depot.
After that download the official Jeopardy font – Gyparody. Print off the Jeopardy logo on blue paper or on a blue background. Paste that at the top of your cardboard. Below that paste some white poster board and sign the name "Turd Ferguson". Tie some string or twine at the top two corners and now you can wear it as a sign.