Audrey Hepburn's most famous role is her character Holly Golightly in the movie Breakfast at Tiffany's. She had a beautiful Parasian look and her little black dress is probably one most famous outfits of all time. Put together your own LBD costume and you'll be ready for a Breakfast at Tiffany's theme party or you could wear it as a real outfit when you want to feel glamorous.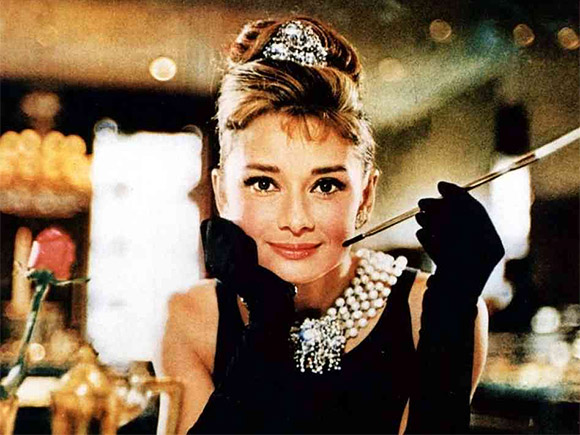 First thing you'll need is a little black dress. The original was designed by Givenchy for the movie and is known as "The Little Black Dress".
Definitely throw on some black elbow length gloves.
In the Audrey wore the Manhatten model of sunglasses designed by Oliver Goldsmith. Just grab some Cat Eye sunglasses or any oversized sunglasses and you should be good.
Roger Scemama designed the original pearl necklace worn in the movie for Givenchy. A similar necklace would be a great accessory.
Toss on a tiara because who doesn't love tiaras?
A long cigarette holder would be another great accessory.
Grab yourself some black pumps from the closet although if you're going to be walking around (like at a bar crawl) some comfortable more comfortable shoes might be a wise choice.
Moon river, wider than a mile
I'm crossing you in style some day
Oh, dream maker, you heart breaker
Wherever you're going, I'm going your way