Billy the Puppet is a dummy used by John Kramer in the Jigsaw series of movies to deliver his messages. It's a funny yet creepy looking doll that is usually seen riding a little tricycle. This would be a great costume to wear at the premier of the new Jigsaw movie (Saw 8) or even Halloween.
Grab yourself a black three piece tuxedo/suit. Oversized is preferable because it'll give it that suit on puppet look but any black tuxedo/suit would work. Doesn't even have to include the vest. Keep in mind many suit pants come un-hemmed.
Next throw on a white dress shirt.
Slip on a red bow tie. Can get a clip on if you don't know how to tie one or want to keep it easy.
Put a red pocket square/handkerchief in your jacket pocket.
Also put on some white gloves.
In the movie the puppet wears Mary Jane shoes but you can just get any pair of red shoes. Although I think any pair of shoes would really work. It's a minor detail.
Grab yourself a messy black wig.
To finish it off I'd follow one of the Billy the Puppet makeup tutorials on Youtube.
An optional accessory could be a red tricycle.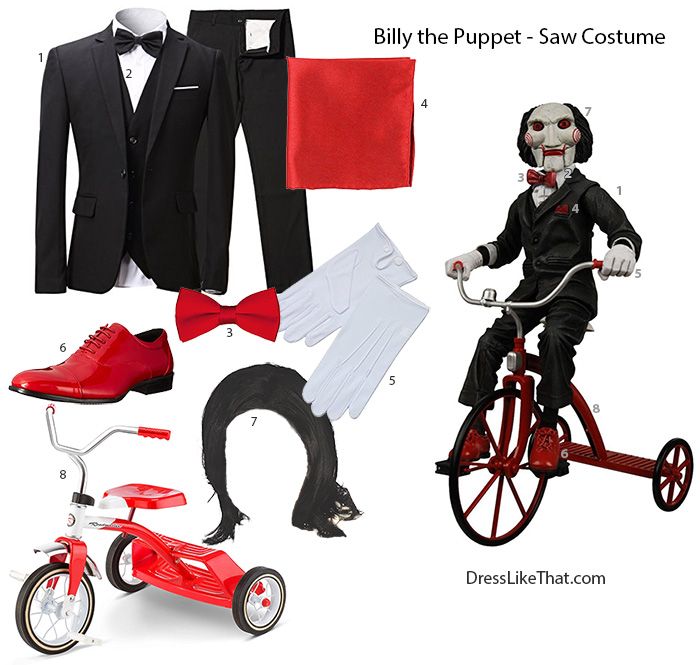 Now walk/ride around and ask people if they want to play a game.