The Cable Guy is a cult classic dark comedy film starring Jim Carrey and Matthew Broderick. We're going to try to recreate the outfit worn by the cable guy aka "Chip".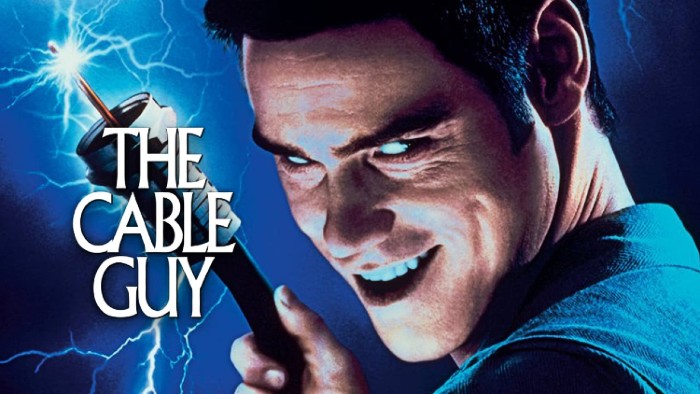 First put on a cream colored crewneck t-shirt. A plain white tee would work in a pinch.
Next slip on some blue coveralls.
Throw on some black work boots.
Grab a tan leather belt. Might be easier to get a belt already with pouches.
Alternatively, you could get a work belt and add on some utility/accessory pouches for a more accurate look. Slip in some tools you already own. If you don't have any just hit up your local thrift store/dollar store. Or maybe even pick up some toy tools if you want to keep things light. Don't forget a roll of black electrical tape!
You can pick up a clear pocket protector and put it in one of your chest pockets. Fill it up with some pens.
You can get a custom patch embroidered with text that says "THE CABLE CO" and attach it above the opposite chest pocket. Might be able to make something by hand with scrap fabric and fabric paint if you're in a pinch. 
One accessory you can carry around would be some spare coax you probably already have. If not just grab a short cable somewhere.
Another possible accessory would be a cordless drill. If you don't feel like carrying around the real thing a toy/prop would work and most likely be a lot lighter.
Put it all together and you've got yourself The Cable Guy costume. Now you're ready for a karaoke session with your preferred customers.