Bill Lumbergh is a non-confrontational micro managing vice president at Initech. Also he's going to need you to come in to the office tomorrow. Oh and Sunday too.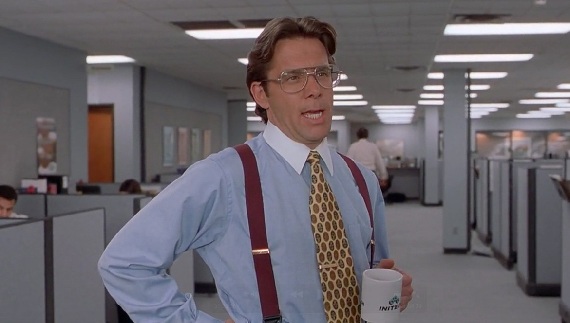 First, you will need to grab a contrast collar dress shirt with french cuffs. Usually that means a dress shirt with a white collar and white cuffs.
Don't forget to grab some cuff links.
Next, pick up some suspenders/braces.
Throw on some dress pants.
Put on a belt.
Grab yourself a matching tie that is relatively wide. 3″+ if possible.
You could add in a tie bar as an accessory.
You can also add in a class ring for additional detailing.
Throw on a pair of glasses.
Print off a Lumbergh Initech name badge and hang it off your belt loop using a name tag holder.
Finish off the look with an Initech mug.