Bernard Bernoulli is one of the main characters of Maniac Mansion 2 – Day of the Tentacle the classic game by LucasArts, which has most recently been remastered by Double Fine. Bernard has the look of a typical nerd but pair up with some of the other characters from the game and you'll have a great group costume.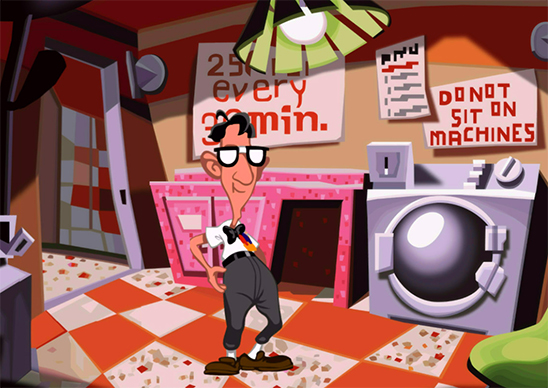 Starting from the top you can style your hair like a nerd or if you prefer you can pick up a nerdy looking wig.
Next, you'll need a pair of nerdy glasses.
Don't forget to tape up the bridge! Teflon tape would work great.
Grab yourself a white, short sleeved dress shirt in white (preferably with pocket).
Accessorize with a black bow tie. Over-sized would have the best look but a regular one would still work.
What's a nerd without his trusty pocket protector? Grab a yellow one if you can. Don't forget the ink pens!
Throw on any old black belt you have.
So for the pants you have some options. Personally, I would just grab any pair I already have that's a dark gray/charcoal color. I would simply roll/fold the legs up underneath and then pin them so it looks like you have high water pants. Alternatively, you could pick up a pair of pants but get an inseam size that's too short for you. So if you have a 32 inseam, you could try a pair of 30 inseam pants. Sounds like it could work. Third option would to actually hem up a pair of pants.If you did it by hand you could probably undo the hem after your done with the costume.
Definitely go with the white gym socks.
Finish off the look with some brown loafers/slip-on shoes.
There are some nerdy costume bundles that might make things easier. Quality could be hit or miss though.