Ash Williams is the Hero of the Evil Dead / Army of Darkness movies / TV Show. You can find him working at the S-mart when he's not battling the forces of evil or possessed loved ones in a cabin in the woods. Would be a great Halloween costume but would work equally as well at your local Rennfest.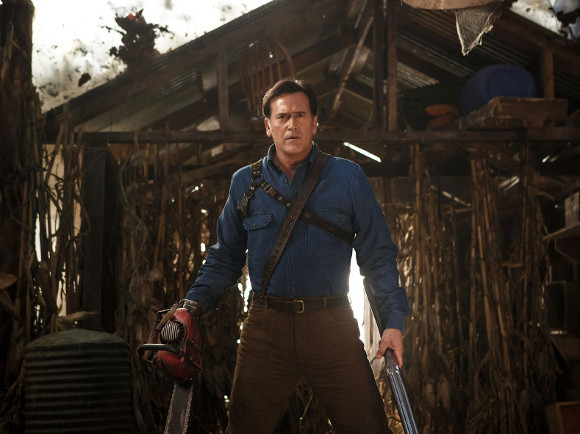 First grab yourself a blue colored work shirt although honestly I think any blue button up would work. If you want you can rip off a sleeve, cut the shirt up, or distress it to get that battle worn look.
Next slip on a pair of brown pants. I think work pants, chinos, or corduroys would work. Most important thing is the color.
Make sure your pants stay on by wearing a dark brown belt.
Throw on a pair of brown boots although any old pair of dark shoes would work in a pinch.
Ash has a custom harness for holding his shotgun aka the boomstick. You could probably make one with some D-rings and leather/nylon straps but I would just toss on a gun holster and a shotgun scabbard to save time.
Might want to bring a boomstick along.
Ash uses a red Homelite XL chainsaw and eventually replaces his arm with it. If you can modify it so it actually looks like an arm attachment that would be awesome but I don't think it would be necessary.
Totally optional but it could be fun to carry around your own copy of the Necronomicon (Book of the Dead). There's a replica prop available or you can pick up one of the limited edition DVDs that have packaging shaped like the book.
Don't forget to spit out catchy one-liners throughout the night. Some examples:
Hail to the king, baby!
Good. Bad. I'm the guy with the gun.
Groovy!
Come get some!